What is fantasy sports betting?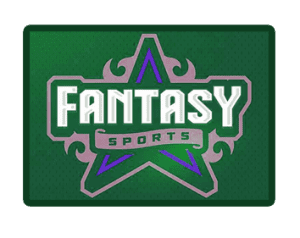 You're probably already familiar with fantasy leagues, where fans of football, soccer, basketball etc. create their own fictitious teams and compete against each other for points.
As a fantasy gambler, it's up to you to create the best team through tactical selections and wise predictions. You can play free fantasy sports on many sites. But, if you want to make things interesting, then why not bet on some fantasy games for real money too?
With fantasy leagues available for football, soccer, baseball, basketball and so many other sports, there's tons of fun to be had with great fantasy sports games.
How do fantasy sports work?
Fantasy sports are super easy to understand. Create an incredible team and then go head to head with other fantasy fans to see whose team wins! Simple.
You can play against one or thousands of people at the same time. It's up to you. Fantasy tournaments will each have their own unique time frame. This could be a day, week or entire season. You can choose which contests you want to play, and who you want to play against. The options are endless.
So, let's look at an example:
If you love soccer, imagine taking all the best players from all the squads in the British Premier League and putting them into one team. Well, that's exactly what you do with fantasy soccer leagues.
Your players will earn points for the amount of goals they score, as well as other things, like how long they play for during each game. They will also have points deducted for yellow/red cards, and other infractions.
Just as with real soccer, there will be transfer windows where you can buy and sell players. If one of your players is injured, you'll want to swap him for someone else during this time.
Is it legal to bet on Fantasy sports?
In most states, fantasy sport betting is perfectly legal, as it is considered a skill-based hobby; rather than outright gambling, which is rooted in luck. Currently, fantasy sports betting is exempt from the Unlawful Internet Gambling Enforcement Act.
We recommend looking up your state, to make sure it's legal to bet where you live. But, at the time of writing the following states do not allow betting on fantasy sports:
Arizona
Hawaii
Idaho
Louisiana
Montana
Nevada
Washington
The best fantasy sports sites will clearly display their rules on their website. But, if in doubt, do your own research, to make sure you can bet in the state you're in.
Due to popularity in online gambling and fantasy sport betting, we predict that these laws will continue to change and allow more opportunities in the coming months or years. So keep your ear to the ground for changes and updates to the laws in your area.
Popular Fantasy Sports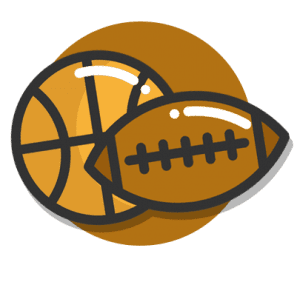 Fantasy sports betting sites have seen a huge surge in popularity in recent years. And people love to pit their skills against rival fans and predict the best outcome for their teams.
Below you'll find some of the most popular fantasy sports that people all over the US and rest of the world enjoy playing and betting on.
Fantasy Football
NFL football is one of the cornerstones of fantasy sports websites. Loved by millions of fans across America, you can draft your very own fantasy squad from all the various NFL teams in the country, before going up against other players in a bid to outsmart your competition and bring home the bacon!
There are 3 main types of football on fantasy football betting sites:
Traditional: the classic league format. Competitions last throughout the normal football season and culminate in the final play-offs
Daily: shorter contests. These follow the traditional format but competitions last for a single day, week or month
Dynasty: these leagues carry on indefinitely, with new players added to the roster at the start of the new season
As you can see, there's a ton of variety to these leagues. And you can choose to get involved in as much or as little of the action as you like.
Fantasy Soccer
Soccer is the most watched sport on the planet. And for as long as there have been soccer games, there have been devoted fans betting on them! Particularly popular in the UK, soccer offers some of the greatest chances to create a 5-star team of any sport around. Choose from the British Premier League. Or keep things close to home with the American Major Soccer League.
Combine the best players in the world to create your squad. And then place a fantasy bet to see if your team can outshine the others, as you go head to head with other soccer fans from around the country. If you're looking to bet on actual soccer games, go check out our best football sports betting sites.
Fantasy Basketball
Another great US fantasy sports league is NBA basketball. Take on the role of manager and draft your perfect team.
Fantasy basketball can be as simple or as complex as you want. A lot of betting sites will offer 3 categories for scoring points, whereas others will offer up to 11 ways to win points for your players.
The standard 3-category points system is based on:
So, if you're new to fantasy sports, then choosing a site that offers the standard 3 categories is probably best. Then, once you've mastered these, you can choose to move to a more complex basketball league, which awards points for other things, such as blocks, steals and field goal percentage, among others.
Fantasy Ice Hockey
Combine the best of the US and Canada now, with NHL fantasy hockey. There are lots of different types of league, making this one of the most exciting fantasy sports in North America.
The most popular types of NHL fantasy hockey include:
Rotisserie: this is the most common fantasy hockey league. Teams are ranked from best to worst, with the best team at the end of the season winning the prize pool
Head-to-head: go up against one other competitor in a weekly battle to see who comes out on top. Weekly points are added up at the end of the season, and the winner is declared
Points league: each player has different points he can earn in statistical categories. More complex than the other types of league, the points for all categories are added together at the end of the competition
There are also other types of draft available too, so this is one hell of an exciting fantasy sport to get involved in!
How fantasy sports betting works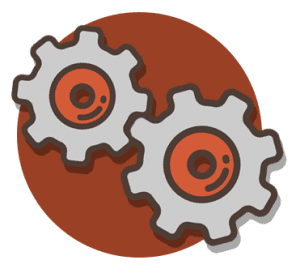 Fantasy sports wagers are very different to regular game bets, as you know. There's no guessing the outcome of a match or amount of home runs etc. Having a bet with fantasy sports takes skill and dedication.
However, it might not be immediately obvious how you can win money with a fantasy team. So, let's explain a little more about how the bets work.
We'll assume that you've chosen which site you want to play at and which sport is your favourite. If not, don't panic as there's plenty of info on this in the next section!
With fantasy sports, you choose your own team. You don't bet on any actual team in the league
When you enter your team, you pay a fee. That fee goes into a pot that becomes the prize pool
The players you choose will score points or lose points depending on how well they play and what achievements they gain during the game
The people you play against will have their own team that will also score points in the same way. As a result, one team will obviously fare better than the others. And that team will be the winner
The winner, and possibly the runners up, will collect their share of the prize fund
Most popular DFS sites
DFA refers to 'daily fantasy sports'. And these fast-paced competitions are simply an accelerated version of your normal fantasy league.
So, while you would usually bet on basketball throughout an entire season, for example, with DFS you can wager on much shorter contests that last anywhere between 1 day and 1 week.
Sounds fun, right? So, let's take a look at the top organisations in the States that dominate the DFS industry.
DraftKings
With over 8,000,000 users in the United States, DraftKings is one of the most popular fantasy sports bet operators in the world.
As leaders in the fantasy sports industry, customers with DraftKings can bet on the top 5 major sports leagues in the US (Major League Baseball, National Hockey League, National Football League, National Basketball Association and the Professional Golfer's Association).
Stars Draft
Another favourite platform among fantasy sports fans, Stars Draft offers a great selection of fantasy sports to bet on.
Although a smaller organisation, Stars Draft is beloved by fans all over the US and abroad. And one of the biggest perks is the generous welcome bonus bettors receive when they sign up.
Plus, Stars Draft has one of the most cutting-edge websites around. And you can get access to their sportsbook and all markets direct to your phone, with their fantastic mobile-optimised site.
FanDuel
The main competitor to DraftKings, FanDuel has amassed over 12,000,000 users across the United States in its 12 year history.
FanDuel offers all the major sports leagues in North America. As well as some other popular sports that some fantasy platforms don't have; such as NASCAR, international football and women's NBA.
MKF (Monkey Knife Fight)
The new kind on the block, MKF was established just 4 years ago, in 2017. And since then has become so popular that it's now the third biggest DFS operator, after DraftKings and FanDuel.
MKF has a sportsbook unlike any other. And they offer betting opportunities on a vast array of sports, including increasingly popular eSports. Plus, fans love their state-of-the art website and unusual betting markets.
Joining a fantasy sports league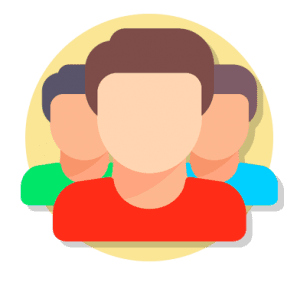 If you think you've got what it takes to battle it out against other fantasy fans, then you'll need a place to play.
Joining a fantasy league shouldn't be a complicated affair. Fantasy sports websites are designed to make the process effortless and you should be up and running in no time.
There are a few simple prerequisites and we'll have a look at those in more detail now.
Find a good bookmaker
Fantasy gambling isn't the most widely available form of gambling in the US. Legally, yes you can play in most states, but there isn't a huge choice of bookies on offer. Regular sports betting is well represented by hundreds of operators. But for fantasy fans, you'll have to take your pick from around a dozen top sites.
Use the lists of sites that we present to you here on our website. They're tried and tested and have a lot to offer players. Moreover, they are trustworthy and have great reputations.
One of the things that might sway your decision is the type of welcome bonus that a site may offer. Let's take a look at how that might affect your choice.
Look for good bonuses
Fantasy sports websites, unlike regular bookies, don't always come with loads of signup offers. The business model is quite different to that of standard sports betting and there simply isn't as much money involved. Sure, some of the top fantasy sites are generating large profits, but when you compare them to some of the mainstream bookies, the numbers are relatively small.
This is starting to change though as more and more players begin to realise the winning potential. Being a skill-based form of gambling offers a whole new perspective on sports betting. And lots of punters think they have what it takes to beat their peers.
This means increased competition, and that's when you start to see the top bonuses take off. For now, any sites that do have a welcome offer in place can be found right here. We'll update our list as new sites and deals come onto the market.
Create an account
Fantasy sports betting sites should have a simple signup procedure. It's not necessary to demand a ton of information and it's in nobody's interest to keep new customers waiting!
You'll have to enter a few contact details to ensure that you live in an area that allows this type of betting. But once you've confirmed all of that, you'll be able to log in and grab hold of any bonuses on offer.
If you want to play for real cash prizes, then you'll need to get some cash into your new account. There are usually many different payment options so you should find one that suits you.
Pick a sport that you have knowledge of
Online fantasy sports rely on players battling it out against each other. Whether it's a one-on-one or even a huge league, you'll still need to know your stuff. You could try and wing it, but what's the point, right? You sign up so you can hopefully win, and in this game that requires knowledge and skill.
For example, if you're an expert in MLB and you've followed it all your life, then it makes sense to start there. You know loads about the sport and have probably acquired a heap of knowledge about the teams and their players. And it's this kind of insight that will help you become a serious contender.
Choose a contest
The top fantasy sports websites will not only have a variety of different sports available, but also plenty of games that feature within that sport as well.
When fantasy sports first hit the scene, they were a season-long league that followed the corresponding national or regional league. Those types of contests are still a huge part of the fantasy sports niche, but head-to-head battles have opened the door to a more specific challenge as well.
You may want to take someone on during a certain match that interests you. And as long as there is another person who's prepared to go up against you, then you can create a team for pretty much any game.
Draft your team
Now that you've decided what game you want to play, it's time to think about creating a team. This is where all those years of watching the big match with your mates start to pay dividends!
You'll see a list of players available for that league or game. Depending on where you play and what type of contest you choose, you might not be selecting a full team. For example, you'll likely choose 9 players to feature in your football team rather than 11. If you're playing a full league, then you will choose reserve players as well so you can change your squad each week.
Remember that each part of the game action is worth a different number of points for your team. Sticking with the football theme, passing yards, TD and conversions are all worth different points. Therefore it's important to choose your players carefully depending on where they play.
Side note – Pay close attention to the budget as you won't be able to overspend.
You're ready to go!
Now that you've chosen your team, it's time to sit back and watch the action unfold. And hopefully, enjoy your reward.
Playing one-off matches is certainly a quicker way of seeing any financial gains. However, season-long contests are where the big money can be found.
Either way, having your own fantasy teams will add an extra layer of excitement to each match that your players are involved in.
The points for each of the qualifying actions are calculated automatically so there's no need to reach for a calculator. There may be a short delay after the game while the numbers are added up. After that, you should be able to refresh the page and see how your team(s) got on.
Fantasy sports betting bonuses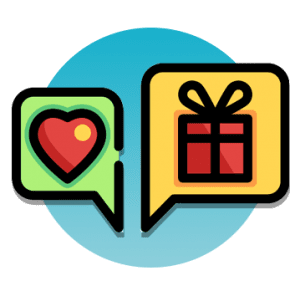 Fantasy sports betting sites may not carry the same clout as regular bookies and other forms of online betting. As we've already seen, big bonus figures aren't generally the norm in this industry at present. But that could be set to change as competition increases and the battle to attract more customers begins.
Nonetheless, this doesn't mean that you can't find any bonuses right now. Some of the top sites are already offering some decent deals and they're certainly worth taking a look at.
Playing for free or increasing your playing balance is always a great thing and shouldn't be overlooked.
No deposit bonus offers
Some sites may offer the coveted no deposit bonus to new players.
This type of promo is one of the most popular around today and everybody loves getting their hands on this deal.
By simply opening up an account, you could unlock a free game. Or perhaps some free credit to use on more than one game. There are several combos that top fantasy sites can offer, and they can all lead to free cash.
You may have to opt into the deal before the operator releases it as some customers may prefer not to have the promo on their account.
In general, this bonus comes in the form of site credit and you can't withdraw it as cash. The bonus credit is almost always subject to certain rules, so always read the T&Cs.
Deposit bonus offers
The above offer is certainly a very welcome one, but there are some downsides. The main one being that it could be quite a small amount of bonus credit. Fantasy sports websites want you to join them but they can't put their business at risk in the process.
One way that you can bag a whole lot more extra credit is by finding a deposit offer instead.
This type of deal is generally more lucrative because you are risking some of your own money in the process. When you open an account you will have to head over to the cashier section and make a deposit using one of the available methods.
After that, the fantasy site will match anything that you deposited. This will have a limit so you can't go depositing thousands and expect them to do the same!
As with any bonus, there will be rules to follow. You can find all the details for the promo in the Terms and conditions section of the site where you are playing.
Refer a friend bonuses
Some of the top 10 fantasy sports sites will have a referral scheme to attract new business. When you recommend the site to one of your friends, and they subsequently sign up, you may receive a handsome reward.
It's a nice and simple offer that takes very little effort on your part. So if you see a site offering this bonus, then try and get your mates involved too!
It may not be huge amounts of free credit, but it's certainly worth checking out where possible.
Different types of fantasy sports betting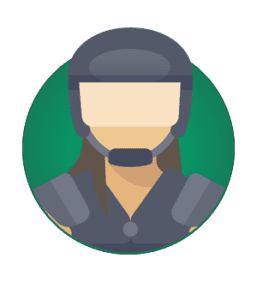 Fantasy sports websites present you with a couple of different ways to play. You can either opt for the more traditional leagues that take place over an extended period of time or you can look for a quicker turnaround with daily games.
Daily Fantasy Sports
Daily fantasy football sites are quickly becoming the most popular way to enjoy this type of betting. Many punters like to see potential returns on their investment in a more immediate fashion and daily fantasy sports sites are able to provide this.
There are a huge number of games played every day across loads of different sports. This presents the option of creating fantasy teams whenever you like. You can't beat this fast-paced style of gambling entertainment.
Advantages of DFS
Let's take a look at some of the upsides of choosing DFS:
Massive prizes: some DFS operators offer truly eye-watering prize pools
Straightforward strategy: instead of worrying about the whole team, you're usually only interested in one player in particular
More variety: with DFS, you can choose between a ton of sports and lots of different markets to bet on
Quicker payout: quicker tournaments equal a quicker turnaround. So you can get your hands on your winnings sooner rather than later
Disadvantages of DFS
Now let's take into consideration some of the downsides of opting for DFS:
Lots of competition: DFS is super popular, so you're constantly competing against tons of other players
Short competition times: if you like to sit back and enjoy your fantasy betting, then DFS contests might actually prove to be too short for you to really get into!
Traditional Fantasy Sports (Season)
If you're not looking to create new teams every day and would prefer to take things a little slower, then you might like season-long fantasy games.
This more traditional way to play offers the chance to stand in the manager's shoes and really keep an eye on what's happening with your team. You'll get to make various changes throughout the league, usually each week. But essentially, you stick with your team right till the end.
Advantages of Season Fantasy Sports
Now let's look at the pros of opting for seasons fantasy sports:
More tactical: a whole season gives you lots of time to make tactical changes to your rosta
Dynamic gameplay: there's more room for manoeuvre with SFS than DFS
More immersive experience: stay with your team the whole way through the season, from start to finish
Disadvantages of Seasons Fantasy Sports
Here are some potential cons of choosing seasons fantasy sports:
The excitement can wear off: a season is a long time! Some people start to lose interest after a few months
Longer wait for payouts: with a longer tournament comes longer waiting times to collect any winnings
FAQ
There's a lot to take in when choosing fantasy sports betting sites. Hopefully, we've made it as clear as possible. But if you're still missing something, then perhaps this Q&A section can help.
Is fantasy sports betting legal?
Fantasy betting is perfectly legal in the majority of states. It's considered a game of skill and, therefore, is different to chance bets. There are only a handful that don't permit this type of activity, so you should check the legal status in your state before you play. Gambling laws are evolving quickly and you don't want to be caught out.
What's the most popular fantasy sport in the UK?
In the UK, the most popular fantasy sports are football and rugby, although football is streets ahead. Many of the versions that you find in the UK are free, but there are some places where you can also play for real money.
How do I know if a fantasy sports betting site is safe?
Fantasy sports websites that feature here on our site are safe and secure. We do all the necessary background checks to ensure that you are only playing at the very best sites with solid reputations.
Is fantasy sports betting considered to be gambling?
People always ask us 'is fantasy sports gambling?', and the answer is no. At least not in the eyes of the law! It is a way of betting that one team will do better than another, but the skill element keeps it out of the realms of gambling officially.
Do I have to pay taxes on my fantasy sports winnings?
It depends. If you're a US resident, and you win over $600, then you will probably have to pay taxes on your winnings. That being said, it's worth checking if this applies to you in the State you're in.
Is fantasy sports betting complicated?
No! Fantasy sports betting can be complex and detailed; but only if you want it to be. Otherwise, you can make simple bets on familiar sports and DFS contests as you wish. Therefore, fantasy betting on sports can be as simple or as complicated as you wish.