Credit card casinos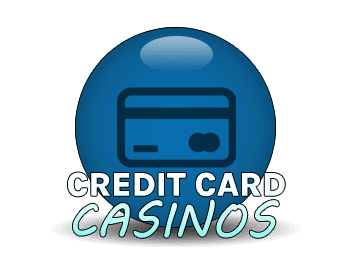 So, first off, let's get this out of the way. If you're a UK resident, you cannot use your credit card to deposit at online casinos. Credit cards used to be a popular payment method, but in April 2020 the UK Gambling Commission (UKGC) banned the use of credit cards at online casinos.
This ban is in place to promote responsible gambling. And to stop people from overspending and getting into financial trouble. This means that if you want to make an online casino deposit, you will have to choose another payment method.
Debit card casinos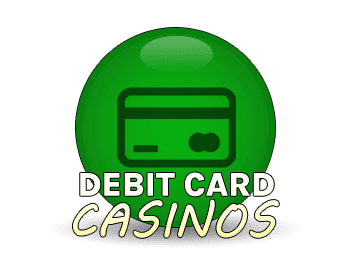 One of the most popular ways to pay at a casino, using your debit card is straightforward and easy. If you have a bank account, then you probably already have a debit card in your wallet or purse. With that in mind, let's take a closer look at some of the debit cards that you pay with at your new online casino:
VISA casinos
One of the best known payment methods in the world. VISA is a global brand, used by businesses and their customers all over the world. Chances are, you already own a VISA debit card, and you can use this to make an online casino deposit. The great thing about VISA is that they are accepted almost everywhere. So you will almost always find VISA as a payment option at casinos. Also, because VISA is so well known, it means that it is trusted. VISA has great security, and is usually issued by your bank. So if you have any problems, you can contact your bank directly to get help.
Mastercard casinos
The other most well known debit card on the planet. Mastercard works in the same way as VISA, and you can use it to buy almost anything online. This includes being able to deposit at casinos. Mastercard is trusted all over the world, so you will see it as a payment option at almost every casino you visit.
If you want to get a Mastercard debit card, then contact your bank to see what options they have. However, if you want to use a Mastercard casino, remember to choose a debit or preloaded card. Because you will not be able to use a Mastercard credit card at an online casino.
Maestro casinos
Finally, the other most popular debit card option is Maestro. Much the same as VISA and Mastercard, Maestro lets you pay for things online and make deposits at online casinos quickly and easily. As with all debit cards, it is linked directly to your bank account. And it will use funds from your bank and transfer them to where you want them to go.
If you want a Maestro card, you should be able to get one directly from your bank. It's important to note that, because all debit cards work in the same way, you might not have the option to choose which one your bank gives you. If you specifically want a Maestro debit card, then you have to look at which banks issue them, and then open up an account with that bank.
Ewallet casinos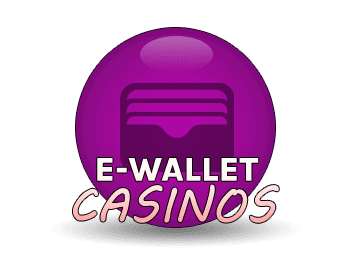 Using e-wallets for online purchases and payments is super popular these days. There are lots of different e-wallets on the market, and they are a great way to deposit at online casinos. But how do they work? And which one is right for you? Let's dive into the world of e-wallets and see:
Neteller casinos
Invented in 1999, Neteller has been a popular payment method for over 20 years. It's an e-wallet that you can link to your bank account or debit card, and use to make payments online. The great thing about e-wallets is that they are extra secure. Instead of using your card or bank details every time you buy something online, all you need is your Neteller password. This extra protection between you and your bank details means that it's extra safe using a digital wallet like Neteller.
Neteller also comes with different options, so that you can choose the right payment solution for you. Choose between an online account and a preloaded card to pay. The online account will be linked to your bank or debit card. Or you can load up your preloaded card with funds. This is a good way to keep an eye on your spending. And to set yourself limits, so that you don't overspend.
Opening a Neteller account is easy. Simply go to their website and follow the instructions. Your account is free to open, but there are small transaction charges when you pay for things online. Or when you deposit at a Neteller casino. Therefore, always read the T&Cs to see which charges will apply to you.
Skrill casinos
Another great e-wallet. Like Neteller, Skrill has also been going for a long time, and is a popular way to pay online. Choose from an online account or preloaded card, and enjoy the benefits of Skrill. These include being able to use multiple currencies, as well as being available in many different languages.
Skrill is accepted by lots of online casinos. And because it's so quick and easy to use, it means that you can deposit with a Skrill casino in an instant. Free to set up, Skrill does have some charges for making payments. So it's important to read the T&Cs before signing up.
Another great feature of Skrill is that you have extra security, because you don't need to input your bank or card details every time you pay. Like Neteller, all you will need is your email and password, and you can use Skrill like a debit card. Easy and super secure!
PayPal casinos
Probably the best known e-wallet around. PayPal has been on the scene since 1998, and completely changed the way that we pay for things online. You might already have a PayPal account. And, if you do, you'll know how easy it is to use!
To set up an account, go to the PayPal website and follow the simple instructions. PayPal is free to set up, and doesn't come with any maintenance fees. But you will have small transaction fees added when you make purchases or transfer money. And this will apply to depositing at an online casino too.
Like all e-wallets, PayPal is very secure to use. Once your account is set up, all you need to pay online is your email and password. So nobody can get illegal access to your sensitive info.
You can find all UK licensed Paypal casinos here at Gamble.xyz.
Ecopayz casinos
Another great digital wallet solution, Ecopayz is another platform that has stood the test of time. Like the others available, Ecopayz lets you send and receive money with their fast and secure platform. Choose between an online account or preloaded card. And keep an eye on what you spend by setting yourself limits.
When you have completed your account setup, you only need your email and password to make transactions online. Nice and simple! It's important to note that you will incur some small fees for purchases and transfers, so do read the T&Cs first, before you open an account.
Prepaid card casinos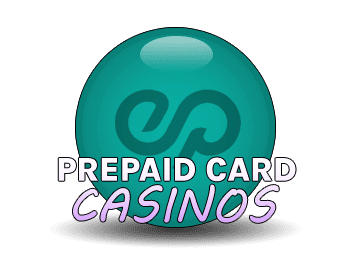 If you want a way to keep track of your spending, and want extra security for online purchases, a prepaid card could be a fantastic option for you. Also known as a preloaded card, these function like normal debit cards. The only difference is that you load the card with funds. So you know exactly how much you have to spend. And you can't go over that amount.
So, let's take a better look at two of the most popular prepaid cards on the market:
Entropay casinos
A great option for paying quickly and safely online. Entropay is marketed as the 'virtual Visa', but be aware that they are not affiliated with the VISA brand itself. That detail aside, Entropay works as a debit card that you can load up with funds that you want to spend. Using it to make deposits at online casinos is quick and hassle free. Payments are instant, and withdrawals only take a few working days (which is completely normal).
The major pros of using Entropay are the speed and safety of all their transactions. However, one of the downsides is that some casinos will put limits on how much you can deposit and withdraw using Entropay. As a result, it is always best to check the smallprint on each casino, before selecting your payment option. Entropay is offered by a lot of casinos, but do check to see if any restrictions apply.
Paysafecard casinos
The first thing to say about Paysafecard is that it isn't actually a card! It's a voucher that you can pick up from convenience shops and kiosks, much like the old pay-as-you-go credit vouchers.
This simple method makes it easy to deposit online at a casino. Simply go to a shop that sells Paysafecard and buy a voucher for the amount that you want to spend. Then go to the casino and choose Paysafecard as your preferred method of payment and enter the voucher number. Done!
The best thing about Paysafecard is that you don't have to hand over any sensitive info, like your bank or debit card details. So you can play safely. But, it's important to know that some casinos will have limits to the amount you can deposit using Paysafecard. Also, in order to withdraw your winnings, you will need to provide a bank account.
Check out our Paysafecard casino section for more information on which operators are currently accepting this payment option.
Pay by phone casinos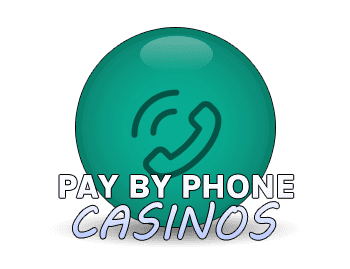 Paying by phone is one of the best ways to get started at a casino quickly and safely. Year on year, we're spending a huge amount of time on our mobile devices and it looks set to continue. For this reason, gambling operators have plugged big investment into the mobile side of the business, and it's paying dividends.
It's not only the games that are being optimised for the user's enjoyment, but the payment methods are as well. Pay by mobile casinos are becoming very popular with people who are keen to protect their privacy and their cash.
There are a ton of products out there right now, but here are some of the most popular with gamblers.
Payforit casinos
Payforit is a payment solution that, in theory, is open to anybody. Like it's main rival Boku, which we'll look at in a minute, Payforit uses your mobile phone credit to make a casino deposit. It is also possible to select your monthly phone bill as a funding option as opposed to top-up credit. But this is hard to find in countries like the UK, for example. There are pros and cons to using this payment option, as there are with everything!
Boku casinos
Boku is another gateway that can get funds out of your existing mobile credit and straight into your casino balance. If you're a pay-as-you-go customer, then you will have this deposit option open to you. Simply top up your phone and then head over to your Boku casino account. After that, you can select the 'Boku' option at the cashier and start playing right away. The major pros are speed and safety as you aren't sharing card details. However, the major downside has to be the restricted limits in place with this product.
Zimpler casinos
If you're after the convenience of paying by mobile but without using call credit, then Zimpler is a great option. This handy method actually connects your debit card to your mobile phone number in a safe and protected way. Once you have your payment source hooked up, you only ever need your mobile number for future payments. It's fast and simple, and casinos don't generally charge any extra for using this deposit type. If you'd prefer not to connect your bank card, then you can always request a bill payment. This way, you can play now and pay later.
Head over to our Zimpler casino page to find gambling sites that offer this payment method.
Wire transfer casinos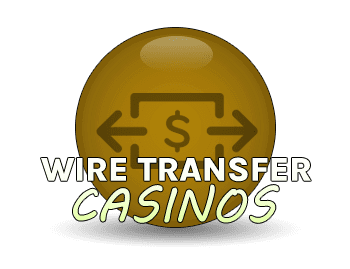 Sometimes the old classic bank methods can be the best. But that depends on the customer. Sending money via wire transfer has been around for decades, but it wasn't always a simple procedure. Thankfully, gone are the days of queuing up at the bank to send money to your casino account. Now you can do it from the comfort of your own home or even while out and about. This method has a great deal of trust linked to it, which is great, but it isn't the quickest. It can take a few days to get money from your bank account to clear into a casino balance.
High street banks
The main, trusted way to make a wire transfer has always been through a high street bank. Although there's been a shift away from some of these big brands in recent years, and digital banks are starting to gain traction. Whatever your choice of bank, getting your money moving is hassle-free. When making a deposit, just select the 'pay by wire transfer' option and the casino will display their bank details. Use these details back at your internet banking site to get the cash sent over to them. Once these funds have cleared, then you're good to go!
Revolut casinos
Revolut, like many digital banking products in the digital finance arena, has made a name for itself by reducing fees. Customers have begun to resent the charges at the high street banks and are turning to online products instead. Revolut is like having a bank account on your mobile. You can see your balance changes as they happen, which helps to keep an eye on your spending. Moreover, you are able to make payments anywhere in the world and in the currency of your choice. Mobile casino deposits have never been so simple to perform and easy to control.
Other payment methods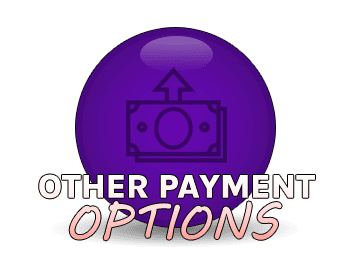 Most of the deposit options mentioned above, are pretty mainstream now and have a good following. Although we should mention a couple of the new kids on the block. Recently, we're starting to see a wave of new and awesome payment gateways that are giving gamblers even better ways to manage their funds. So, if you are perhaps looking for something a little different, then maybe these products might be up your street.
Klarna casinos
The latest in play now and pay later methods comes from the Klarna product. It's basically a small loan that gets you playing straight away without needing to pay it off for four months. Selecting this option at the casino cashier will give you a welcome grace period. As a result, you'll only have to make four equal payments one month apart. If you're waiting to be paid, for example, but are keen to get online and play, then check this product out.
Bitcoin casinos
Perhaps the most modern method of them all! Bitcoin casinos are a new and still slightly rare breed. Using a virtual currency is sparking lots of interest from all over the globe and many industries are taking note. It once appeared to be a flash in the pan, but now it seems that this product may have legs.
New tech is now being brought in to allow digital coins to make their way from the ledger where they're stored and into the account of a shop or casino etc. Bitcoin currently has huge market value and could become the main payment method in years to come. Decentralising currency from central governments is an interesting prospect and you can be part of the shift.
FAQ
There's a whole lot of info on this page about the various casino deposits method, and hopefully, we've covered it all. If you need a little extra insight, then take a look below at our FAQs.
Are there free deposit options?
There certainly are. In fact, most casinos will allow all deposit methods to be used without charge. Away from the casino, you may find that the financial services provider that controls your payment adds their own fees. In general, they won't charge you for making a payment to a casino or any other business. The fees start when you need to get money into an e-wallet, make cross-currency transfers, or pay your bill at a later date. The good news is that these fees are generally quite small.
What's the fastest payment option?
Among the fastest options are debit card, pay by phone and e-wallets. Most of these methods will have the money in your casino account and ready to use in a flash. Paying by wire transfer is the slowest method and can take a few days to arrive. Every casino will have a list of transfer times listed next to the various methods on offers. So always check the small print to make sure you aren't waiting longer than necessary.
Why should I use Skrill?
There are many reasons to use Skrill. Not least because they made the system with gamblers in mind so it ticks the right boxes for casino users. You can get money into your Skrill account from a variety of sources and it only has a small fee for doing so. There is also the rapid transfer option which takes the money from your bank and sends it directly to the store or casino. Finally, they have a prepaid card option. This final method is a great feature as you get a debit card that you can load up with funds. After that, you can spend your money how you like. All in all, Skrill is a great payment product.
What is the most secure casino deposit option?
All of the payment options mentioned on this site are safe and secure. However, if you were to pick one, then it would be the method that doesn't share any bank details. In this case, the pay by phone options are up there with the best of them.
Are credit card payments allowed outside of the UK?
Credit card payments are no longer possible in the UK when playing at a casino. However, if you are going overseas to play, then this payment method is still very much alive.